Use PowerPoint with voice-over for async communication
PowerPoint can be used for efficient async communication. You can paste in a piece of information (such as a wiki post or a graph) and add context by recording a voice-over. You can replace meetings with this and make information accessible to more people (instead of telling every single one separately).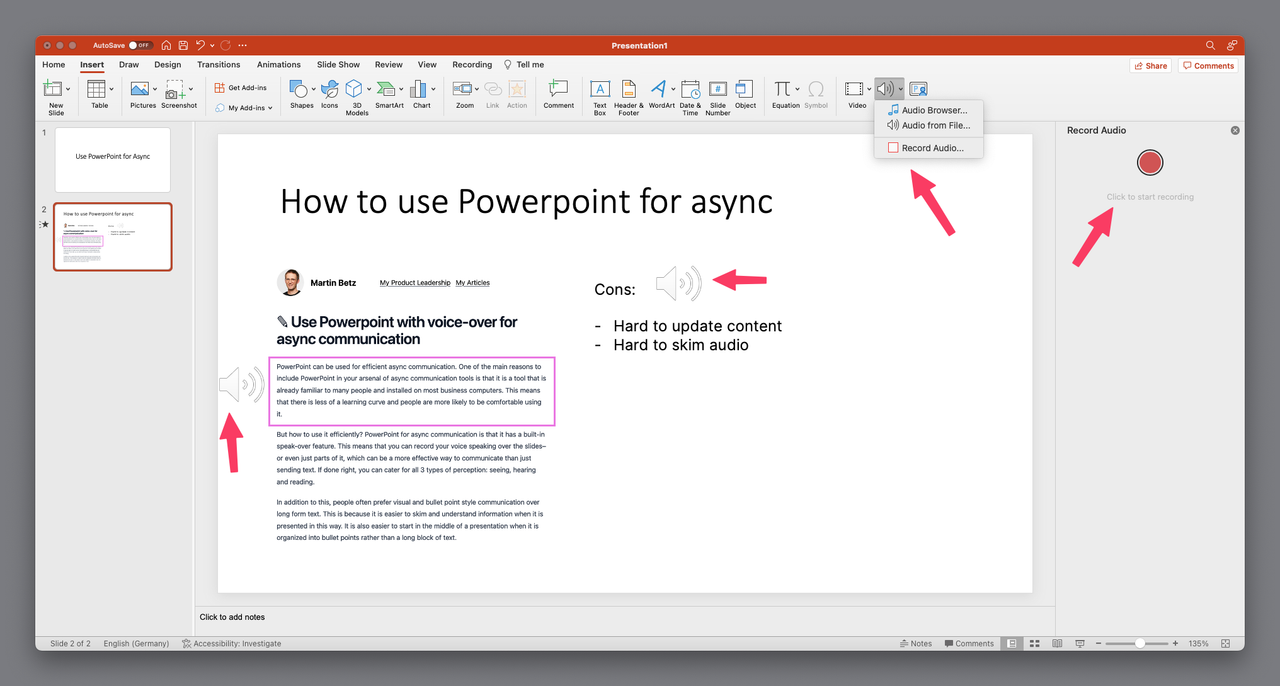 Here's how to do it in a way that makes the document easy to digest and maintain:
Copy the content you want to record voice-over for into PowerPoint
Break down info into the smallest possible chunks
Keep each voice over under 30s
Share the presentation via the share links
Don't use the "Record presentation" mode, rather use "Insert > Audio > Record Audio" to get multiple voice-overs per slide
Pro Tip: If you record voice-overs and present a PPT later, you will hear yourself, which can be annoying. The easiest way to get rid of that is by opening the presentation in your browser and mute the tab
Pros
PowerPoint is everywhere: One of the main reasons to include PowerPoint in your arsenal of async communication tools is that it is a tool that is already familiar to many people and installed on most business computers. This means that there is less of a learning curve and people are more likely to be comfortable using it.
Cater for different styles: People have different favorite types of communication, such as reading, hearing, and seeing. By using PowerPoint's speak-over feature, you can combine multiple ways of communication and increase how much people engage with it.
Cons
Hard to update: One of the main cons of using PowerPoint for async communication is that it can be harder to update content.
Hard to skim: It can also be harder to skim content and start in the middle of a presentation.